Medical Malpractice Lawyer East Brunswick, NJ
A Respected NJ Personal Injury Attorney Skilled in Handling Complex Medical Malpractice Cases in Monmouth County, Middlesex County, Ocean County & Essex County, New Jersey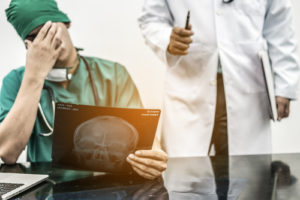 Too often, when a physician makes an error during surgery that caused serious injuries or the death of a loved one, medical professionals who witnessed the mistake stay silent. A wrong diagnosis or misdiagnosis which delays proper treatment may be difficult to prove. Improperly prescribed medications that caused harm could be subjectively determined by those defending against your claim. The facts necessary to prove a medical malpractice case in New Jersey often require a review of medical records by an expert, the testimony of medical experts, interviews of witnesses, knowledge of insurance coverage in New Jersey, and an experienced personal injury attorney to handle civil court proceedings.
New Jersey personal injury attorney Vincent R. Glorisi has the knowledge, skills, and resources to successfully fight for the rights of those injured because of medical malpractice in East Brunswick, Old Bridge, Monroe Township, and elsewhere in Middlesex County, NJ. As an attorney who cares deeply about those injured because of medical errors, Mr. Glorisi will focus on winning the financial recovery you need for your injuries or to care for your injured child.
What Types of Events Constitute Medical Malpractice in Monroe Township, NJ?
When a patient is injured, or a loved one killed, because of a doctor's negligence or other medical error, it's usually because of the following:
Surgical errors
Anesthesia miscalculations
Post-operative negligence
Delayed diagnosis and misdiagnosis
Medication mistakes
With over 35 years of experience in Atlantic County, Ocean County, Union County, Monmouth County, and throughout New Jersey, the Law Office of Vincent R. Glorisi has won millions of dollars in settlements and verdicts for our injured clients. As an experienced New Jersey personal injury attorney, Vincent R. Glorisi is equipped to fight for your rights, the rights of your child, and for the wrongful death of a loved one. You can also count on him in the courtroom: he has been certified by the NJ Supreme Court as a civil trial attorney.
South Brunswick Medical Malpractice Lawyer Can Win Monetary Recovery to Relieve the Stress of Your Financial Worries
Ultimately, not only should your NJ medical malpractice lawyer be skilled in fighting insurance companies, but if a personal injury civil lawsuit is also necessary to recover monetary damages, your attorney must be able to explain the medical and legal issues to the jury and judge and disprove the defendant's case. The high level of skill that New Jersey medical malpractice attorney Vincent Glorisi brings to the legal fight is critical to obtaining maximum recovery for your injuries.
The Law Office of Vincent R. Glorisi knows that proving medical malpractice and negligence requires a skilled, knowledgeable attorney who can investigate and prove fault. Unlike other personal injury cases, proving medical malpractice fault is complex, and uncovering what really happened can be excessively challenging. That's why you need a qualified NJ medical malpractice attorney on your side.
Who Can File a Wrongful Death Lawsuit Because of Medical Malpractice in Old Bridge, New Jersey?
Not just anyone can file a medical malpractice wrongful death lawsuit in New Jersey. Under NJ law, you must be an heir, such as an immediate family member (child, spouse, parent), a legal dependent, or an estate representative to file a wrongful death claim in New Jersey. If you believe that a loved one was killed because of medical malpractice, you need an attorney who can examine your information and evaluate whether you have a New Jersey wrongful death case.
NJ Physicians May Do No Harm When Patients Entrust Them with Their Care in Plainsboro, New Jersey
When a doctor completes their medical studies, internship, and residency, to legally practice medicine they must be sworn in and agree that they "will do no harm," as specified by the Hippocratic Oath. The Hippocratic Oath requires physicians to uphold specific ethical standards when practicing medicine. And when physicians and doctors make mistakes that harm patients, they should be held accountable for not providing a "reasonable standard of care." When they fail at providing reasonable care, they may be liable for medical malpractice. In the event that medical malpractice can be proven, the injured person could be entitled to substantial financial recovery.
Contact an Experienced North Brunswick Attorney Who Can Help You Recover Monetary Damages for Medical Malpractice Injuries or for a Loved One's Death
Proving medical error and negligence is a daunting, arduous endeavor, and the prospect of going to court can be intimidating. When you are recovering from the physical and emotional trauma of a medical malpractice incident, hiring a qualified, empathetic medical malpractice attorney who will guide you throughout the legal process could make the difference between a low settlement offer or a high monetary settlement that covers your current and future medical expenses and gives you a sense of justice.
To schedule a free case consultation and evaluation at NJ medical malpractice attorney Vincent Glorisi's office in Old Bridge, NJ, call 732.251.3333. You can also fill out the online contact form. Additionally, If we take on your case, you will never pay a penny upfront. We get paid only when you get paid. Call the Law Office of Vincent R. Glorisi today if you want an experienced medical malpractice attorney who will fight for the largest settlement allowed by law for your damages.