Dog Bite Lawyer Old Bridge, New Jersey
Experienced New Jersey Personal Injury Attorney Represents Dog Bite Victims in Middlesex County, Monmouth County, Essex County & Ocean County, NJ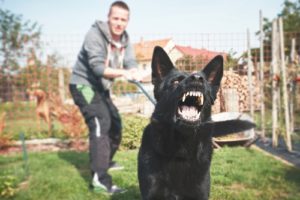 Dogs are an enjoyable part of many pet owners' lives, as evidenced by the 98.2 million dogs cared for in American homes. While dogs may provide companionship and happiness, they can sometimes become aggressive and bite. When this happens, serious injuries to you, a family member, or a friend may happen. With over 35 years of experience handling dog bite injury cases in Middlesex County, Monmouth County, Union County, Ocean County, and Atlantic County, attorney Vincent R. Glorisi can help you minimize the chaos and confusion of filing insurance claims, dealing with attorneys, and, if it becomes necessary, pursuing a personal injury lawsuit or filing a premises liability claim in a New Jersey courtroom.
North Brunswick Dog Bite and Dog Attack Lawyer Can Help You Recover Money for Medical Expenses, Lost Income, Pain & Suffering, and Emotional Trauma
In some cases, a dog exhibits aggressive, territorial behaviors, especially if the owner hasn't properly leashed or trained the animal. Other times, a dog that has always been friendly and sociable around people suddenly attacks an innocent victim. When a dog attacks and bites, injuries can be serious and can even cause death. Serious dog bite injuries may include:
Puncture wounds
Broken bones
Eye injuries
Head and neck injuries
Face injuries
Scars
Blood loss
Nerve damage
Rabies infection
Death
Psychological problems
While any breed of canine can injure, maim, or kill, certain breeds are statistically shown to cause the highest number of fatalities. Pitbulls and Rottweilers alone account for 76% of dog attack fatalities, according to a report issued by www.dogsbite.org. Other breeds that commonly lead to dog attack fatalities include German Shepherds, American bulldogs, mastiffs and bullmastiffs, and huskies. Though not all dog attacks are fatal, injuries from bites can be serious. Even smaller dogs can inflict serious damage when they bite, including permanent scarring and disfigurement. The injuries can be particularly severe when the victim is a small child.
In some cases, even loved ones who have witnessed a dog attack can be traumatized and suffer emotional damages, such as a permanent fear of dogs and post-traumatic stress disorder. For secondary damages, your family may also be entitled to monetary compensation.
Attorney Vincent R. Glorisi Provides Personal, Attentive, Focused Representation for Your Dog Bite Injuries in Plainsboro, NJ
As your attorney, Vincent Glorisi treats you like a family member. He will show understanding and compassion for the trauma you've endured and provide attentive services and focused representation for your case. When you hire the Law Office of Vincent R. Glorisi, here's what we will do for you.
Provide a free legal evaluation of your case.
Give intelligent legal advice when you really need it.
Cover all upfront costs associated with your case.
Determine case worth and fault.
Handle insurance companies involved.
Deal with the insurance company's attorneys.
Hire investigators and interview witnesses.
Take care of the complex claims process.
File a civil court lawsuit if necessary.
Handle appropriate, timely filings.
Deal with confusing paperwork.
Fight to get you the maximum compensation allowed by law.
Never get paid unless we win your rightful money.
After a New Jersey dog bite attack that required medical treatment, you may have expenses and bills for which you should be compensated. If you've missed time from work and have consequently lost income, you may have a right to additional financial recovery. If a loved one has been killed by a dog, a wrongful death lawsuit may be the appropriate recourse for your losses.
Glorisi Law Firm Handles Wrongful Death Settlements for Family Members of Dog Bite Victims in South Brunswick, NJ
If a loved one was killed because of a dog bite in New Jersey, you or the decedent's estate may qualify for significant monetary settlements. We know no amount of money can replace your loved one's life, role in the family, or economic contributions, nor can it ease your sorrow or the loss of their companionship. But filing a wrongful death lawsuit against the negligent person responsible for your tragic loss may help to bring some sense of closure and allow you to pursue justice on behalf of your loved one. Vincent R. Glorisi can advise if you may be entitled to a wrongful death settlement in New Jersey.
Because the insurance companies know about the courtroom prowess of the Law Office of Vincent R. Glorisi, we get better results for our clients. Vincent Glorisi has been recognized by the NJ Supreme Court as a certified civil trial attorney. We are ready with the skills and resources to help you monetarily recover when you've been attacked and bitten by a dog. Our Old Bridge office is conveniently located for victims of dog bites in Middlesex County or Monmouth County, NJ. And if you can't make it to our office, we'll be happy to visit you in the hospital or at home.
When You've Been Bitten by a Dog in Monroe Township, NJ, Contact Our Experienced New Jersey Dog Bite Attorney Today
It's important that you act quickly with your New Jersey dog bite injury claim. Waiting could make it more difficult to build your case, and you may run out of time to file. Call us today so you can begin the process of financial recovery for your dog bite injuries. Our case evaluation is free, and you'll never pay any upfront costs. We get paid only when you get paid.
Let us help so you aren't deprived of your rightful financial settlement for your NJ dog bite injuries. We're available 24/7. When you call, you will be promptly put in touch with experienced Middlesex County dog bite attorney Vincent R. Glorisi. Call 732.251.3333, or fill out the online contact form.