Wrongful Death Lawyer Plainsboro, NJ
Experienced New Jersey Wrongful Death Attorney Helps Clients Seek Justice for the Loss of a Loved One in Middlesex County, Monmouth County, Ocean County, and Atlantic County, NJ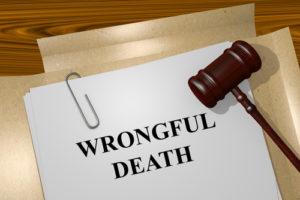 Your life has been turned upside down by the unexpected death of a loved one. The sorrow you feel is made worse when you know, or suspect, they were killed because of the preventable, wrongful acts of another. You agonize about the "what ifs" and "if onlys." You obsess about why this happened when it could have been prevented if not for the careless, reckless behavior of a person or company. While nothing can change what happened and bring your loved one back, seeking justice may provide some closure. The injustice of such a preventable death demands a response. Those responsible must be held accountable and accept the consequences for the harm they caused.
Of all the cases attorney Vincent R. Glorisi handles, wrongful death claims are the most troubling. There is no turning back the clock, there is no bringing back a loved one, and no amount of money is enough to soothe your sorrow. But Vincent R. Glorisi promises to do everything he can to make this process easier for you and to help you get justice for your loss.
South Brunswick Wrongful Death Lawyer Can Win Monetary Recovery to Ease Your Burdens
As you're reeling from this untimely, tragic death, you may be faced with funeral costs, lost economic support, and costly medical bills. The loss of companionship of your loved one, the guidance and support given to offspring, and even loss of a sexual partner are all compensable under the law in New Jersey.
Proving who is responsible and who should be held accountable for your loved one's death requires the help of an experienced New Jersey wrongful death attorney. The Law Office of Vincent R. Glorisi, located in Old Bridge, NJ, not only has compassion for your loss but also is dedicated to helping you receive justice through monetary means. If the circumstances of your cherished family member's death meet the legal criteria of a wrongful death, attorney Vincent R. Glorisi can help you file an insurance claim and a lawsuit through a New Jersey civil court. If your case goes to trial, you can rest assured that Vincent Glorisi will fight to win for you — he has been certified by the NJ Supreme Court as a civil trial attorney.
What Types of Events May Constitute a Wrongful Death Claim in Monroe Township, NJ?
Motor Vehicle Collisions: All kinds of driver behavior can be considered reckless and negligent, including distracted driving—which is on the increase because of texting and other mobile technology—driving under the influence, not obeying traffic laws, an overworked truck driver, unsafe truck loading, poor vehicle maintenance such as brakes and tires, manufacturer mechanical defects, and more. When a loved one was killed under these circumstances, a New Jersey wrongful death lawsuit may be appropriate.
Medical Malpractice: Many negligent, reckless acts by medical professionals can cause a wrongful death. This includes surgical errors, delayed or misdiagnosis, incorrect prescription drugs, and more. Physicians and medical facilities have an inherent responsibility to follow the Hippocratic Oath "to do no harm." When they are negligent and do, in fact, commit harm to a patient, they can be held monetarily responsible through a personal injury, medical malpractice, or wrongful death lawsuit.
Toxic Substances: If exposure to environmental hazards such as asbestos, toxic spills, or pollution of water and air led to a death, heirs may be entitled to a wrongful death settlement.
Suicide: In some cases, a suicide can be considered a wrongful death caused by a person who exhibited negligence toward the deceased. For instance, a therapist or counselor who should have recognized the warning signs but ignored them may be considered liable for the suicide. In some recent cases, bullying that led to a suicide may be considered legally compensable.
Workplace Accidents: It's the responsibility of employers to provide their employees with a safe work environment. While wrongful employment deaths in New Jersey are often compensated through workers' compensation, if the death was because of a third, non-employee party or a product defect, a wrongful death lawsuit through a civil court may be filed.
Who Can File a Wrongful Death Lawsuit in Old Bridge, New Jersey?
Under New Jersey law, to file a wrongful death lawsuit, you must be an heir, such as an immediate family member (child, spouse, parent), a legal dependent, or an estate representative. Those who typically can't file a wrongful death lawsuit in NJ are fiancés and fiancées, foster children, stepchildren, and unmarried partners. While wrongful death claims are different from other personal injury claims, proving who is at fault for your loved one's death is similar to personal injury claims in some respects. You need an attorney qualified to use the resources to prove negligence and legal responsibility and to recover damages for a New Jersey wrongful death claim.
Contact an Experienced East Brunswick Attorney Who Can Help You Recover Monetary Damages for Your Loved One's Wrongful Death
To build a strong case in a wrongful death lawsuit requires the dedicated focus of an experienced, qualified NJ wrongful death attorney with the resources to fully investigate what happened, gather evidence, assess blame, hire medical experts, interview witnesses, and build your case. Experienced Middlesex County wrongful death attorney Vincent Glorisi will handle the chaos of paperwork and the technicalities of pursuing monetary compensation for your loved one's wrongful death.
It's time to hire an experienced wrongful death lawyer who knows the laws, procedures, and timely filing requirements of a wrongful death civil court lawsuit in Old Bridge, Plainsboro, East Brunswick, and Monroe Township, NJ.
Don't delay. As time passes, witnesses' memories can fade, evidence may disappear, and time may run out. Call Vincent R. Glorisi today at 732.251.3333 or fill out the online form to begin the fight for justice for your loved one's wrongful death.